Business To Buy
Print your Growth
Not Disclosed, Florida
What is the first thing you're required to do when you finally land that dream job you've worked so hard to achieve? Mandatory fingerprinting and background check. Clue into this popular, well connected, award winning business to achieve your goals of success. The current phone system can forward incoming calls to off-site person. Options to run as an absentee owner OR to expand and grow this business bigger than ever. High volume phone calls – 600-800/month and contracts with local government establishments, your base is set. How will you leave your fingerprint on South Florida?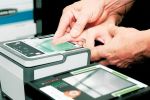 Financials

Price: $175,000
Gross Income: $255,227
Cash Flow: $78,000
FFE: $15,000
Inventory: $0
Real Estate Value: $0




About the Business

Office Reference ID: #02-039
Year Established: 2011
Financing: Seller may entertain some financing for a qualified buyer.
Training: 2 weeks free training.
Facilities:
Competition: This niche business stands alone, and it shines against those businesses it's in competition with. Top fingerprinting company in WPB – recognized as the best in the business in 2019 and awarded Best of WPB in the fingerprinting category in 2017. Neighborhood businesses include; a Lowe's around the corner, a furniture store, and a CVS Pharmacy among other local businesses.
Growth: Expansion in this business is limitless. There are frequent demands for other offices closer to hospitals & corporate businesses due to the necessity of this company to their business. A fire-filled buyer could even mobilize this business adding a mobile fingerprinting van for easy access to mass clientele. The sky is the limit when the demand is a necessity and competition is minimal.

Business Listed By

Name: Roy Huffman
Company: First National Business Corporation

Phone: (866) 800-0990



The information in this listing has been provided by the business seller or representative stated above. BusinessToBuy.Net has no stake in the sale of this business, has not verified the accuracy, completeness, and assumes no responsibility for this advertisement. Read our Terms and Conditions for more information.
Business Listings by: Roy Huffman
| | | | | | |
| --- | --- | --- | --- | --- | --- |
| Photo | Listing Title | City | State | Price | Cash Flow |
| | This Grass is Greener, Small Company with Clean Books | Broward County | Florida | $150,000 | $65,000 |
| | Laundromat for Sale | Springfield | Missouri | $499,000 | $128,000 |
| | Profitable Landscaping Company | Coconut Creek | Florida | $175,000 | $74,518 |
| | Design your Profits | Palm Beach County | Florida | $215,000 | $127,000 |
| | Full-service Civil Engineering and Surveying Firm | Not Disclosed | Oklahoma | $1,150,000 | $254,238 |
| | Established Sandwich Shop | St Louis | Missouri | $290,000 | $46,680 |
| | Neighborhood Bar & Grill | Kansas City | Missouri | $253,000 | $49,665 |
| | Plumb Your Way to Profit | Not Disclosed | Florida | $1,800,000 | $0 |
| | Dive your way into Profits | N/A | Florida | $575,000 | $225,000 |
| | Full-line Hardware Store | Whitewater | Wisconsin | $625,000 | $113,587 |
| | Well established Scientific/Environmental/Labware device manufacturing facility | Not Disclosed | South Carolina | $2,600,000 | $380,908 |
| | Home-based Mobile Kiosk Concession Business | Not Disclosed | South Carolina | $80,000 | $38,364 |
| | 3.25 Acres in Joplin, MO | Joplin | Missouri | $595,000 | $0 |
| | Pump Up Your Profit | Palm Beach County | Florida | $350,000 | $140,000 |
| | Highly Profitable Restaurant and Pub for Sale | Jackson County | Missouri | $291,000 | $117,768 |
| | Car Wash with Large Amount of Land | Spencer | Oklahoma | $150,000 | $0 |
| | Well-established Tree Service Company | Not Disclosed | Florida | $175,000 | $107,408 |
| | Pave and Remodel Your Way to Success | Not Disclosed | Florida | $1,250,000 | $532,757 |
| | 20-Year Established Appliance Repair & AC Company | Miami-Dade County | Florida | $550,000 | $222,250 |
| | Clean Books, Clean Profits | Miami- Dade County | Florida | $500,000 | $200,000 |
| | Established Auto Repair Shop | Edmond | Oklahoma | $1,750,000 | $224,011 |
| | Quick Lube/ Repair Shop Now Available | Not Disclosed | Missouri | $289,000 | $0 |
| | Specialty Toy and Gift Store | Not Disclosed | Missouri | $29,000 | $0 |
| | Bar and Grill with Real Estate for Sale | Sugar Creek | Missouri | $399,000 | $0 |
| | Smoothie Shop – Focused on Health | Overland Park | Kansas | $119,000 | $57,597 |
| | Long-Established Plumbing & Mechanical Contractor | Not Disclosed | Ohio | $689,000 | $189,000 |
| | Investment Opportunity | Independence | Missouri | $0 | $0 |
| | #1 Rated Mediterranean Restaurant for Sale | Oklahoma city | Oklahoma | $2,300,000 | $263,315 |
| | Turn Key Hardware Store | Not Disclosed | Kansas | $1,750,000 | $400,000 |
| | New Farm Equipment and Supply Store | Fresno | California | $383,112 | $0 |
| | Well-established Italian Restaurant | Oklahoma City | Oklahoma | $250,000 | $102,343 |
| | Turnkey Specialized Fitness Center | Not Disclosed | Missouri | $150,000 | $65,000 |
| | Profitable Concrete Manufacturing Company | Not Disclosed | Missouri | $1,499,000 | $198,000 |
| | Established Convenience Store with Great Location | Raytown | Missouri | $65,000 | $0 |
| | A Whale of an Opportunity | Not Disclosed | Florida | $16,500,000 | $1,900,000 |
| | Office Furniture & Design Business with Real Estate | Not Disclosed | Missouri | $225,000 | $138,528 |
| | Iconic Pizza Destination in South Florida | Not Disclosed | Florida | $365,000 | $180,000 |
| | Great Small-town Motel Near Major Attractions | Hermitage | Missouri | $1,100,000 | $117,106 |
| | Well established 50 plus year old Full Service Gas Station. | Not Available | South Carolina | $1,050,000 | $304,006 |
| | Welding Tool Repair Shop Now Available | Not Available | Kansas | $125,000 | $49,999 |
| | Moving & Storage Company | Miami-Dade County | Florida | $185,000 | $70,580 |
| | Profitable Coin Laundry with Shopping Center | Kansas City | Missouri | $400,000 | $42,783 |
| | Brake in the Cash | Davie | Florida | $1,000,000 | $260,000 |
| | Cool Profits | Hollywood | Florida | $250,000 | $92,685 |
| | Turnkey Plumbing and HVAC Business | Oklahoma city | Oklahoma | $800,000 | $240,422 |
| | Artistry By the Sea | Not Disclosed | Florida | $170,000 | $60,000 |
| | Whistle Stop Cafe | Osawatomie | Kansas | $250,000 | $0 |
| | Multi-unit Subway Franchise for Sale | Kansas City | Missouri | $297,000 | $0 |
| | Don't Miss this Window of Opportunity | Palm Beach County | Florida | $900,000 | $300,000 |
| | Well Established Property and Casualty Insurance Agency for Sale | Greene County | Missouri | $345,000 | $54,490 |
| | Profitable Hardware Store | Not Disclosed | Colorado | $600,000 | $150,000 |
| | Well Established Florist/ Gift shop in Southern Missouri | N/A | Missouri | $349,500 | $85,807 |
| | Print your Growth | Not Disclosed | Florida | $175,000 | $78,000 |