Business To Buy
High-End Yoga and Pilate Studio
San Francisco Bay Area, California
The Price Has Been Reduced!
Take Advantage of this Great Opportunity to own your prestigious Yoga&Pilate Studio.
Nearing half-million sales last year, this amazing premier lifestyle fitness studio has a huge potential business growth opportunity for an entrepreneur with time and passion for the Health industry.
Beautifully built-out, well-established with clients with a diverse background (local and international) as well as a corporate client account. This successful studio has been selected, featured, and offered opportunities to work with big brand names, athletes, and magazines. An amazing turn-key opportunity has high-margin programs that well-positioned for growth opportunities to franchise or license the brand through corporate wellness programs and in-home services. This fitness studio generated $665K in sales and $100K+ in SDE with part-time owners.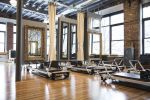 Financials

Price: $65,000
Gross Income: $547,151
Cash Flow: $0
FFE: $0
Inventory: $0
Real Estate Value: $0




About the Business

Office Reference ID: #SF 1130
Year Established: 2012
Financing:
Training: Available
Facilities: Located in the heart of San Francisco, easily accessible to Bart and Muni. This 2000 sq. ft. the facility is a one-of-a-kind, turn of the 20th-century building that has a private entrance.
Competition: This studio has been set themselves far apart from the competition due to the current owner's philosophy of having small and intimate classes (private), working with best instructors in the industry, and offering one of the kind therapies as well.
Growth: Expanding online presence, reaching out to the surrounding corporate companies, collaborating with Union Square hotels.

Business Listed By

Name:
Company: BTI Group / Business Team

Phone: 408-385-0412



The information in this listing has been provided by the business seller or representative stated above. BusinessToBuy.Net has no stake in the sale of this business, has not verified the accuracy, completeness, and assumes no responsibility for this advertisement. Read our Terms and Conditions for more information.
| | | | | | |
| --- | --- | --- | --- | --- | --- |
| Photo | Listing Title | City | State | Price | Cash Flow |
| | Busy & Profitable Car Audio & Alarm Business | No City | California | $359,000 | $202,759 |
| | CNC Machine Shop in Orange County 35+ years | No City | California | $1,250,000 | $538,980 |
| | Full-service Auto Repair Shop $800K+ Revenue | San Francisco, San Francisco County | California | $299,000 | $0 |
| | Successful Hair Salon in San Jose | San Jose | California | $69,000 | $0 |
| | B2B Business Furniture Distributor | undisclosed | Washington | $549,000 | $416,615 |
| | Leading taphouse with food and entertainment | No city | Oregon | $150,000 | $9,204 |
| | Profitable Commercial Cabinet Manufacturer | No city | California | $1,800,000 | $373,560 |
| | 1+M SDE, eCommerce Sales, SBA Qualified | No city | California | $0 | $1,067,434 |
| | Well Established Retail Furniture Store | No City | California | $1,950,000 | $559,224 |
| | Health and Medical Service Support Biz- Franchise | Undisclosed | California | $49,900 | $0 |
| | Established Auto Body Shop w/ Real Estate | San Joaquin County | California | $700,000 | $269,448 |
| | Acclaimed marine rigging and racing company | No city | California | $1,750,000 | $213,760 |
| | A Multicultural Greeting & Gift Card Company | Los Angeles, Los Angeles County | California | $150,000 | $0 |
| | Vintage Interior Parts For Classic Cars & Trucks | No city | California | $240,000 | $120,003 |
| | Iconic bar with food in center of downtown Eugene | Eugene | Oregon | $279,000 | $33,174 |
| | Ike's Love and Sandwiches Franchise | Undisclosed | Washington | $271,400 | $0 |
| | Water Spa on the Peninsula | Undisclosed | California | $700,000 | $139,443 |
| | Senior in-home adult care franchise | undisclosed | Oregon | $0 | $0 |
| | Franchise, Cleaning, Profitable, Established | Sacramento County | California | $100,000 | $51,201 |
| | Established Geotechnical Engineering Company | No city | California | $2,100,000 | $807,993 |
| | Solo, Small Animal Clinic in Vibrant, Growing Area | Sacramento | California | $120,000 | $67,028 |
| | Roofing Business serving Bay Area and Peninsula. | No City | California | $900,000 | $482,256 |
| | Local Sign Company 33 Years in Business | No city | California | $225,000 | $66,392 |
| | Growing Superfood Café for Sale for less than new | Sunnyvale | California | $99,500 | $21,512 |
| | Pre owned auto dealer in high traffic locale | Spokane | Washington | $399,000 | $272,362 |
| | Commercial Interior Construction | No City | Washington | $0 | $4,574,243 |
| | IT Services, computer repair & mobile phone repair | No city | California | $0 | $0 |
| | Mexican Grill Franchise in upscale strip mall | No City | California | $90,000 | $0 |
| | Retiring After 39YRS Automotive Service & Repair | No City | California | $140,000 | $0 |
| | Established Auto Body Shop w/RE | No city | California | $700,000 | $269,448 |
| | Mailbox Shipping Service in San Jose | San Jose | California | $69,000 | $0 |
| | Public Works/Commercial Electric & Construction Co | No city | California | $3,000,000 | $426,854 |
| | Established Auto Body Shop with Real Estate | San Joaquin County | California | $700,000 | $269,448 |
| | Health and Medical Service Support Biz- Franchise | Silicon Valley | California | $49,900 | $0 |
| | Commercial Window Washing | No city | California | $1,080,000 | $352,009 |
| | Electric Construction Co with Government Contracts | Undisclosed | California | $3,000,000 | $2,342,150 |
| | Turn key tap house with full staff in prime locale | Eugene | Oregon | $119,000 | $24,128 |
| | Prosperous Floor Coverings Store | No City | California | $1,650,000 | $508,655 |
| | Profitable Auto Paint & Collision Shop | No city | California | $1,200,000 | $102,559 |
| | Smoothie/Ice Cream Franchise in Busy Mall | No city | California | $65,000 | $44,425 |
| | Profitable Sign Company with Real Estate | No City | California | $525,000 | $259,372 |
| | Established Profitable Auto Care, SBA Approved | No city | California | $199,999 | $150,630 |
| | Korean Restaurant in Tourist Attraction Monterey | Monterey | California | $120,000 | $0 |
| | CNC machine manufacturer and Prototyping | Sunnyvale | California | $2,000,000 | $233,286 |
| | Auto Paint & Collision Shop – Profitable in 2020! | Bay Area | California | $1,200,000 | $102,559 |
| | Fast Authentic Greek Food Franchise | Undisclosed | Washington | $587,100 | $0 |
| | Retail Flooring Sales& Installation | No city | California | $1,950,000 | $589,738 |
| | Profitable Orthopedic and Pain Management Clinic | No city | California | $0 | $4,271,728 |
| | Long Established Sports Apparel Store | Undisclosed | California | $20,000 | $0 |
| | Online Motor Cycle Parts | Undisclosed | California | $325,000 | $89,775 |
| | Upscale Salon in San Ramon | No city | California | $100,000 | $0 |
| | Retail Children's Clothing Franchise | No City | California | $399,900 | $130,228 |
| | Profitable Inspection Services Franchise | No City | California | $270,000 | $24,105 |
| | Taffers Tavern Food & Spirits Franchise | Undisclosed | Washington | $1,400,000 | $0 |
| | Unique Golf Club Solution - 3 clubs in 1 | undisclosed | California | $250,000 | $0 |
| | Bob and Edith's Diner Franchise | Undisclosed | Washington | $817,700 | $0 |
| | Canine Cantina Franchise | Undisclosed | Washington | $889,958 | $0 |
| | Absentee Run Coin-Op Laundry In SF | San Francisco | California | $99,000 | $23,179 |
| | Curry Up Now Franchise | Undisclosed | Washington | $483,500 | $0 |
| | LUXURIOUS WATER SPA ON THE PENINSULA | Not disclosed | California | $700,000 | $139,443 |
| | South Bay Water Store | Bay Area | California | $75,000 | $0 |
| | Transmission & Auto Care Shop | No city | California | $149,000 | $24,210 |
| | Profitable franchise with opportunity for growth | No City | California | $200,000 | $49,839 |
| | Little Caesar Pizza Restaurant | No city | California | $329,000 | $48,589 |
| | Specialized Construction Supplier | No city | California | $0 | $1,806,017 |
| | Almost $200K Earnings in 2021 Available at 1.7x! | San Francisco County | California | $289,000 | $179,721 |
| | Almost $200K Earnings in 2021 Available at 1.7x! | San Francisco County | California | $289,000 | $179,721 |
| | Convenience Store w/Gas on Main Street-Northern CA | No city | California | $595,000 | $364,166 |
| | Group Human Pedaled Vehicle Rentals & Tours | Undisclosed | Oregon | $140,000 | $0 |
| | CNC machine manufacturer and Prototyping service | Sunnyvale | California | $2,000,000 | $233,286 |
| | Essential Packaging Supply Business For Sale | No city | California | $600,000 | $184,131 |
| | Major Franchise Tire Outlet with $1.3M Gr. Sales | No city | California | $300,000 | $0 |
| | Medical mask maker with disabled vet GSA contracts | No city | Oregon | $250,000 | $0 |
| | Profitable Window & Gutter cleaning | Davis | California | $325,000 | $195,556 |
| | Franchise Tire Outlet with $334K SDE | No city | California | $795,000 | $334,149 |
| | SBT-0704: A Covid-19 Therapeutic Drug Candidate | No City | New York | $0 | $0 |
| | $260,000+ SDE...Priced at $500,000! | No City | California | $500,000 | $105,730 |
| | Mobile Door & Window Business Fully Equipped | No City | California | $255,000 | $156,391 |
| | Material Handling & Conveyor Integration | No city | California | $0 | $1,322,989 |
| | Southern Biscuits and Chicken Franchise | Undisclosed | Oregon | $0 | $0 |
| | Electronic Game Trader Franchise -4% royalty fee | Undisclosed | Washington | $0 | $0 |
| | Material Handling & Conveyor Integration | No city | California | $0 | $1,322,989 |
| | Full Service Market & Bakery, Huge Potential. | No city | California | $450,000 | $0 |
| | Pet Supply Store | San Francisco Bay Area | California | $40,000 | $120,059 |
| | Kids indoor play place, Franchise | No city | California | $2,200,000 | $265,404 |
| | Material Handling & Conveyor Integration | No city | California | $0 | $1,322,989 |
| | Exclusive winery, vineyard and wine club | No city | Oregon | $6,600,000 | $49,348 |
| | Wolfnights Gourmet Wrap Franchise | Undisclosed | Washington | $600,000 | $0 |
| | Logistic Transportation and Warehousing Business | No city | California | $1,100,000 | $1,357,066 |
| | Profitable Digital Printing Supplies & Services | Northern California | California | $799,000 | $316,083 |
| | Mfg, Health Care Products, Real Estate Available | No city | California | $110,000 | $0 |
| | Auto Repair Full Services $800K+ Revenue | San Francisco | California | $299,000 | $0 |
| | High End Moving, Trucking and Logistics. Growing. | No City | California | $0 | $365,990 |
| | Wholesale & Retail Lumber Supply | No ciy | California | $599,900 | $203,003 |
| | Profitable High End Consignment Store | No city | California | $439,000 | $237,666 |
| | Art Framing Store, Workshop, Seller Carry, Turnkey | San Francisco | California | $275,000 | $105,700 |
| | Learning Center & After School Enrichment | Cupertino | California | $179,000 | $107,119 |
| | Growing Sign and Print Company | No city | California | $425,000 | $87,039 |
| | Stone Care Contractor. Over $2M SDE! | No city | California | $5,400,000 | $470,365 |
| | High End Jewelry Boutique, 2MM+ Included Inventor | No city | California | $5,250,000 | $1,253,056 |
| | Mobile Appliance Repair that comes to you | Undisclosed | California | $119,000 | $64,218 |
| | Profitable Sign Company with Real Estate | No city | California | $449,000 | $121,823 |
| | RESIDENTIAL & COMMERCIAL GLASS SERVICES | No city | California | $200,000 | $96,779 |
| | Little Caesar Pizza Restaurant | Yolo County | California | $120,000 | $75,497 |
| | The Halal Guys Franchise | Eugene | Oregon | $315,600 | $0 |
| | Profitable High End Hair Salon in Busy Financial District | Undisclosed | California | $350,000 | $0 |
| | Brooklyn Dumpling Shop Franchise with Automat | Undisclosed | Washington | $459,000 | $0 |
| | Retailer for Flooring Goods, $100K of invent. incl | Sacramento County | California | $79,000 | $55,776 |
| | Tile & Stone Importer, Retailer & Wholesaler | Undisclosed | California | $1,775,000 | $231,266 |
| | CNC machine manufacturer and Prototyping service | Sunnyvale, Santa Clara County | California | $2,000,000 | $591,929 |
| | Electronic Game Trader Franchise -4% royalty fee | Undisclosed | Washington | $0 | $0 |
| | Greek Express Franchise | Undisclosed | Oregon | $0 | $0 |
| | Well Established Electrical Contractor | No city | California | $699,900 | $348,661 |
| | High End Jewelry Boutique, 2MM+ Included Inventory | San Mateo County | California | $5,250,000 | $1,253,056 |
| | Dry Clean Plant in Fremont | Fremont | California | $49,000 | $0 |
| | Live the Island Life & Give the Gift of Flowers! | Freedland, Whidbey Island | Washington | $150,000 | $64,488 |
| | Highly profitable kitchen design & assembly business | No City | California | $0 | $1,641,178 |
| | !New Lowered Price! Hi End Jewelry & Repair Store | San Francisco, San Francisco County | California | $50,000 | $19,255 |
| | Profitable South Bay Auto Care Franchise | No City | California | $295,000 | $148,013 |
| | High-End Yoga and Pilate Studio | San Francisco Bay Area | California | $65,000 | $0 |
| | Dry Cleaning Agency plus Wet Cleaning Plant | No City | California | $64,999 | $47,225 |
| | High Volume Window Tint Business For Sale | Sacramento | California | $130,000 | $115,586 |
| | Slapfish Modern Seafood Shack | No City | Washington | $0 | $0 |
| | Profitable Fishing Weight Manufacturing Business | No City | California | $149,000 | $32,240 |
| | Prosperous Floor Covering Store | No city | California | $1,650,000 | $508,655 |
| | Popular café with great menu, location and lease | No city | Oregon | $99,000 | $25,559 |
| | Digital Printing Supplies & Services | Oakland | California | $799,000 | $346,083 |
| | Sign Company with Multiple Income Divisions | No City | California | $120,000 | $78,124 |
| | Beautiful Hair Salon in SF's Most Affluent Area | San Francisco | California | $149,000 | $0 |
| | Amazing Sunrooms/Decks/Patios for Sale Northern CA | No City | California | $7,500,000 | $137,658 |
| | Top Bridal Shop in Bay Area for sale | San Jose | California | $1,150,000 | $522,750 |
| | Premier School Uniform Co. in the N. California | No city | California | $599,000 | $194,857 |
| | LCB design, build & maintenance business | No city | Oregon | $899,000 | $142,402 |
| | Diversified I.T Service Provider | No city | California | $1,300,000 | $284,621 |
| | Wine Producer & Online Retailer | No city | California | $250,000 | $0 |
| | High Profit Independent Grocery Store | No city | California | $6,950,000 | $1,413,720 |