Business To Buy
Dog Boarding and Grooming Facility with Real Estate
Tarrant County, Texas
Profitable dog boarding, grooming and training business for sale. This 10,000 sq.ft. facility is located on 2.5 acres of land and includes over 50 indoor / outdoor dog runs, an indoor training room, grooming area, retail area, outdoor agility yard, play yards and a swimming pool. Very efficient operation with well trained employees - owner only works part-time. Computerized database of 2,500+ customers.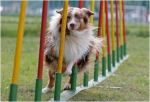 Financials

Price: $825,000
Gross Income: $384,000
Cash Flow: $95,000
FFE: $75,000
Inventory: $0
Real Estate Value: $575,000




About the Business

Office Reference ID: #RO20293
Year Established: 2004
Financing:
Training: Current owner will provide training for a negotiable period of time.
Facilities: 10,000 sq.ft. stand alone facility located on 2.5 acres of land.
Competition:
Growth: Excellent market outlook for an owner operator.

Business Listed By

Name: Anne Barr
Company: Venture Opportunities, Inc.

Phone: 972-783-1662



The information in this listing has been provided by the business seller or representative stated above. BusinessToBuy.Net has no stake in the sale of this business, has not verified the accuracy, completeness, and assumes no responsibility for this advertisement. Read our Terms and Conditions for more information.
Business Listings by: Anne Barr
| | | | | | |
| --- | --- | --- | --- | --- | --- |
| Photo | Listing Title | City | State | Price | Cash Flow |
| | Dry Cleaning Laundry Plant | North Dallas | Texas | $450,000 | $135,000 |
| | Dry Cleaning Laundry Plant with customer drive thru | Dallas Fort Worth Metroplex | Texas | $2,400,000 | $385,000 |
| | Established Retail Dry Cleaning Laundry Plant | Dallas County | Texas | $875,000 | $200,082 |
| | Dry Cleaner | Dallas County | Texas | $255,000 | $0 |
| | 2 Full Price Retail Dry Cleaning Pick Up Agency Stores | Dallas County | Texas | $250,000 | $122,341 |
| | Retail Full Price On Site Dry Cleaning Laundry Plant | Dallas County | Texas | $410,000 | $0 |
| | Full Price Dry Clean Laundry Business | Dallas Fort Worth | Texas | $495,000 | $0 |
| | Service business. Commercial Laundry. Established since 2011. | Dallas County | Texas | $650,000 | $184,000 |
| | Established on-going Auto Service Center Lube, Tune & Auto Repair. Four bay - double stack. Total of eight service bays along with two lube pits. | Grayson County | Texas | $1,175,000 | $82,316 |
| | Established On-going Auto Service Center Lube, Tune & Auto Repair. Four bay - double stack. Total of eight service bays along with two lube pits. | Hunt County | Texas | $1,300,000 | $112,253 |
| | Retail Dry Cleaning Business with Covered Customer Drive Thru | Plano | Texas | $35,000 | $48,000 |
| | Auto Service Center For Sale Tarrant County | Tarrant County | Texas | $650,000 | $109,531 |
| | Retail Dry Cleaning Plant Free standing building with customer drive thru | Fort Worth | Texas | $1,900,000 | $312,000 |
| | Printing Company | North Dallas | Texas | $460,000 | $169,000 |
| | Established Printing Graphics Copying Company For Sale | North Dallas | Texas | $275,000 | $110,000 |
| | Established Lube, Tune and Auto Repair | Fort Worth | Texas | $800,000 | $147,000 |
| | Retail, full price dry cleaning/laundry plant | Dallas | Texas | $550,000 | $169,000 |
| | Distribution Service Company | Dallas | Texas | $1,600,000 | $300,000 |
| | Retail On Site Dry Cleaning Plant with Customer Drive Thru. Free Standing Building. Includes Real Estate. | Tarrant County | Texas | $2,600,000 | $365,000 |
| | Established Full Service Auto Repair Services Lube and Tune | Dallas County | Texas | $1,450,000 | $170,000 |
| | Excellent Restoration and Cleaning Service Business | Dallas / Fort Worth Area | Texas | $800,000 | $188,082 |
| | Busy, Established Retail Full Price Dry Cleaning Pick-Up Store With A Covered Customer Drive-Thru. | Tarrant County | Texas | $70,000 | $0 |
| | Dry Cleaning Plant. North Dallas location. Established Retail On-Site Full Price Dry Cleaning/Laundry Plant. | Dallas | Texas | $200,000 | $80,000 |
| | Well Established Franchise Restaurant | Dallas/Fort Worth | Texas | $265,000 | $190,000 |
| | Retail On Site Dry Cleaning/Laundry Plant with 1 Retail Pick-Up Store | Collin County | Texas | $350,000 | $0 |
| | Full Service Car Wash. Established on-going full service tunnel car wash. | Dallas Fort Worth Metroplex | Texas | $1,550,000 | $161,000 |
| | Retail Dry Cleaning/Laundry Plant includes land and building along with one retail pickup store. Each location has a customer drive-thru. | Tarrant County | Texas | $585,000 | $110,000 |
| | Established Retail Full Price On-Site Dry Cleaning/Laundry plant with two retail pick up stores. Includes the on-going business, equipment, inventory, leasehold improvements. | Dallas County | Texas | $650,000 | $160,000 |
| | Recreational Vehicle Repair,Remodel and Refurbish | East Texas | Texas | $275,000 | $55,000 |
| | Dog Boarding and Grooming Facility with Real Estate | Tarrant County | Texas | $825,000 | $95,000 |
| | Restaurant For Sale - Breakfast and Lunch Only | Dallas | Texas | $129,000 | $29,743 |
| | Established Retail Full Price On-Site Dry Cleaning Plant in Collin County | Collin County | Texas | $480,000 | $143,862 |
| | Established on-going Auto Care/Service Center Oil/Lube& Tune. Includes the on-going business, inventory, equipment, land, building & improvements. Facility has 8 service bays. | Tarrant County | Texas | $850,000 | $165,000 |
| | Well Established Franchise Restaurant | Dallas/Fort Worth | Texas | $300,000 | $140,000 |
| | Busy, Established Retail Full Price Dry Cleaning Pick-Up Store With A Covered Customer Drive-Thru. | Plano | Texas | $80,000 | $0 |
| | Established on-going Auto Service Center Lube, Tune & Auto Repair. Four bay - double stack. Total of eight service bays along with two lube pits. | Grayson County | Texas | $1,300,000 | $115,407 |
| | Full Service Retail On Site Dry Cleaning and Laundry Plant, separate Car Wash and separate Retail Fast Food Business | Denton County | Texas | $4,800,000 | $580,000 |
| | Establsihed Auto Care Center for sale | DallaS | Texas | $3,335,000 | $448,000 |
| | Established Retail Full Price On-Site Dry Cleaning/Laundry plant with a customer drive-thru. Free standing building. Includes the on-going business, equipment, inventory, leasehold improvements land a | Dallas Fort Worth Metroplex | Texas | $550,000 | $79,000 |
| | Profitable Smoothie Business For Sale - Absentee Owner | Dallas | Texas | $99,000 | $37,376 |
| | Retail Dry Cleaning/Laundry Plant. Fast growing, high income trade area. Free standing building with customer drive-thru. Includes the real estate, the on-going business, equipment inventory and impro | Denton County | Texas | $1,795,000 | $300,429 |
| | Retail Dry Cleaning/Laundry Plant. Fast growing, high income trade area. Free standing building with customer drive-thru. Includes the real estate, the on-going business, equipment inventory and impro | Dallas County | Texas | $1,700,000 | $240,559 |
| | Profitable Auto Service Center | Collin County | Texas | $3,335,000 | $553,000 |
| | Frozen Custard Franchise for sale | Dallas | Texas | $130,000 | $50,486 |